Are you looking for the best termite control services in Malaysia?
Empire Pest Control is your trusted partner. We offer specialized anti-termite treatment to solve your pest problems on time and effectively.
Contact us today to get a quote!
Termite Control Services For Both Residential and Commericial Properties
We offer a variety of termite control services in Malaysia for both residential and commercial properties.
Our team can determine the best solution to suit your needs, whether you have a small home or a large business property with many rooms!
Our Termite Control service includes:
Termite Inspection
Termite Soil Treatment
Liquid Termite Treatment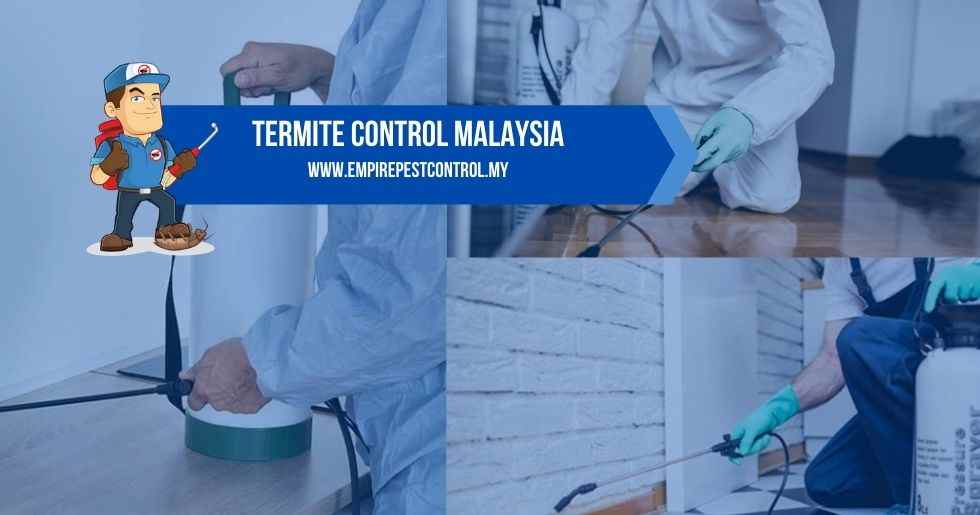 Why Hire a Professional Termite Control Specialist?
There are a few reasons why hiring a professional termite control specialist is better than taking matters into your own hands.
It's important to know how dangerous termite infestations can be. Not only are they an eyesore, but these pests can cause major structural damage to your property if not controlled in time. If left untreated, the cost of repairs could run into thousands or dollars!
It's crucial to act fast when you notice signs of termite activity. If not, the infestation could spread across your home or building and become difficult to control at a later stage with potentially even more expensive consequences!
When you hire a professional termite control company, you can relax knowing that the job will be done right and at an affordable price. The team of experts know how to handle pest problems safely without compromising your family's health or the safety of your premises.
Contact Empire Pest Control today to get a free quote on our termite control services in Malaysia.
Why Choose Us For Termite Control Services
There are plenty of reasons to choose Empire Pest Control as your termite control company! We have been proudly serving the local community for over a decade.
Professional Termite Control Specialist
All our staff are professionally trained termite control experts. We know what it takes to tackle your pest problem head on with the most effective methods available, safely and at an affordable price!
Customized Anti-Termite Treatment
To ensure that our treatment methods are effective, we always tailor a solution specifically to your needs. We will conduct an inspection of the property and come up with a termite control plan tailored especially for you!
Eco-Friendly Solutions
Our termite control methods are eco-friendly to ensure that your family's health is not compromised. We also take into consideration the safety of your property or business premises too – you can rest easy knowing we'll keep it safe throughout!
Popular Locations That We Offer Our Termite Control Services
We have a team of termite exterminators that provide services in the following locations:
Melaka
Here is the list of areas that we provide pest control in Melaka.
Alor Gajah
Ayer Keroh
Ayer Molek
Batu Berendam
Bemban
Bukit Baru
Bukit Rambai
Jasin
Klebang Besar
Kuala Sungai Baru
Masjid Tanah
Pulau Sebang
Sungai Udang
Perak
Here is the list of locations that we offer pest control in Perak.
Bagan Serai
Batu Gajah
Bidor
Kampar
Kuala Kangsar
Lumut
Pantai Remis
Parit Buntar
Simpang Empat
Sitiawan
Taiping
Tapah Road
Teluk Intan
Johor
Here are the area coverage that we offer pest control in Johor.
Ayer Baloi
Ayer Hitam
Batu Pahat
Chaah
Gelang Patah
Gerisek
Jementah
Kahang
Kluang
Kota Tinggi
Kukup
Kulai
Mersing
Muar
Nusajaya
FAQs about Termite Control
Our team of termite exterminators at Empire Pest Control have come up with some answers to the most commonly asked questions about termites control services. If you have any other questions, please feel free to contact us or visit this page for clarification.
What's The Price For Termite Control Services?
The price of termite control services depends on the size of your home or business property, as well as what services are required. To get a quote on termite control in Malaysia, contact us today!
How Long Will A Termite Control Treatment Take?
The amount of time it takes for treatment will depend on what type of termite control services are needed and how serious the infestation is.
What Termite Control Methods Do You Use?
Empire Pest Control use a variety of methods to control and eliminate termites from your home or business premises. This includes termite baiting, soil treatment and more.
We will tailor our plan according to your needs, so that we can keep the safety of you and those around you as well as protecting your property!
What's The Signs of Termites?
There are a few common signs of termite infestations. If you see cracks in wood, mud tubes on exterior walls or damaged areas where the floor has sunken, it is highly likely that there's a problem with termites!
You can also look out for small piles of sawdust near entry points to your home too. It's best to contact our team for termite inspection.
Need To Get Rid of Termite Infestations? Contact Us Now!
Contact Empire Pest Control today for a no obligation quote on our termite control services in Malaysia! We will get rid of termites on your property quickly and effectively no matter how severe the pest infestations.