Highly-trained professional exterminators
Years of experience in the field
Cutting-edge equipments and technology
Affordable bees control price rates
Effective pest solutions
For Bee Control Services in Malaysia – Call Us Now
Hire a Professional Bees Control in Malaysia
Whilst bees are quite vital for the ecosystem of our garden, and we aim to make sure they're protected as much as possible, having these little pests build a home in our building vents or other places around your business or home can pose a huge problem especially if you or other people in your premises are allergic to bee stings.
Hornet and honey bee stings can trigger severe allergic reactions that can be fatal, which is why it's important that you seek help if you happen to find a hive near you.
We at Empire Pest Control recognizes the significance of these bees in our environment. That is why we are committed to providing bee control techniques that eliminate the annoyance of these bees without harming or killing them.
Empire Pest Control is well-known for delivering superior customer support at a reasonable cost.  For a professional bee control service, we're your best choice!
Do you despise having to wait for long periods of time for your request to be processed? If you do, you'll appreciate Empire State Control's approach! We've simplified everything for you, so you don't have to worry about anything.
Step 1: Get in Touch with Us
To get in touch with us, send us an email or give us a call. We can talk about the problem you're having, and our team of experts will assist you in selecting the best program for your needs!
Step 2: Inspection and Site Visit
Our professional pest exterminators will come and visit your property once you've set a date. We'll perform the necessary tests to determine the severity of the infestation and the specific area where the bees are growing rapidly.
Step 3: Extermination
After getting our customer's approval from the obtained data, we will begin the extermination. Our professional exterminators will start-off by taking out the beehive from your premises. The needed tools and solutions for a safe and smooth flow will be utilized.
Step 4: Follow-up
Our team will make certain that all bees have been removed safely from your property. After the insects have been exterminated, the experts will give you tips and strategies to ensure that a second wave of bees does not appear.
Benefits Of Hiring a Bee Control Service
Bees are troublesome to have on your property. They can potentially harm you and trigger allergic reactions, which is why hiring a professional bee control service provider is essential. But why is it necessary? Here are the top 3 benefits of hiring one:
Pest Control Specialist Are Aware of the Best Approach
Despite their annoyance, these tiny bees play an important role in our environment. They brighten your garden while also aiding in pollination. As a result, regardless of whether you're driving these bees away, it's critical that you still look after them. The professionals will know how to get rid of bees from your property safely and without harming them.
Professionals are Fully Equipped
Bees are no joke to deal with, and their stings can be fatal. Hiring a professional gives you the benefit of having someone who's fully equipped to deal with any bee situation that may arise. They're sure to have all the needed tools and solutions to handle your bee issues!
Professionals have Experience
If you plan to take out the beehive yourself, then you're in for a lot of trouble. Bees will attack anyone that pose as a threat to them which can put your life in danger. On the other hand, professionals have the needed experience to know what to do when something bad will happen. You're guaranteed to be in safe hands!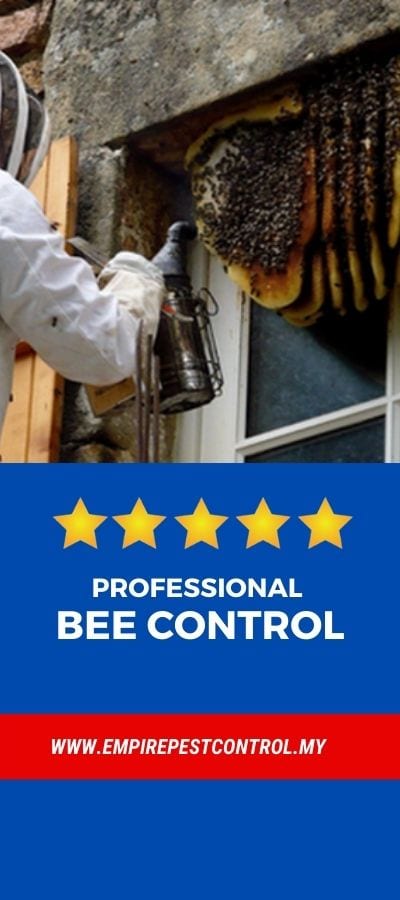 Melaka
Here is the list of areas that we provide pest control in Melaka.
Alor Gajah
Ayer Keroh
Ayer Molek
Batu Berendam
Bemban
Bukit Baru
Bukit Rambai
Jasin
Klebang Besar
Kuala Sungai Baru
Masjid Tanah
Pulau Sebang
Sungai Udang
Perak
Here is the list of locations that we offer pest control in Perak.
Bagan Serai
Batu Gajah
Bidor
Kampar
Kuala Kangsar
Lumut
Pantai Remis
Parit Buntar
Simpang Empat
Sitiawan
Taiping
Tapah Road
Teluk Intan
Johor
Here are the area coverage that we offer pest control in Johor.
Ayer Baloi
Ayer Hitam
Batu Pahat
Chaah
Gelang Patah
Gerisek
Jementah
Kahang
Kluang
Kota Tinggi
Kukup
Kulai
Mersing
Muar
Nusajaya
If you have any concerns or questions, please review the information provided below! It's possible that you'll find exactly what you're looking for.
How much is pest control for bees?
The cost is determined by a number of factors, including the method used and the area of coverage. Empire Pest Control, on the other hand, provides rates that are reasonable. For a free quote, contact us today!
What is the best way to repel bees?
The best way to keep these bees away is to use scent! Essential oils or sprays with repellent scents for bees, such as peppermint, eucalyptus, and thyme, will certainly deter them.
Do pest control deal with bees?
Empire Pest Control deals with any type of bee problem. Whether you own a business or a residence, we're always ready to assist you when issues arise!
Do you need an exterminator for bee control?
The answer varies depending on the circumstances. If your bee infestation isn't too bad, following the experts' advice and strategies will be enough to get rid of these pests. However, when a hive is swarming with bees, it's best to call in the exterminators so that your safety isn't jeopardized.
Need To Get Rid Of Your Spider Infestations? Contact Us Now!
It can be a hassle to deal with bees, whether they're honey bees or hornets. Ensure you and your family's safety by hiring a professional bee control provider such as Empire state control. Contact us today for the best and affordable rates!