Reliable and trustworthy bird control services

Cutting-edge equipment and technology 

Safe and effective bird control solutions

Highly trained professional exterminators 

Quality service at an affordable price
For Bird Control Services in Malaysia – Call Us Now
Reputable Bird Control in Malaysia
Bird control is the process of preventing or removing pest birds from roosting, landing, or nesting on your property. Professional bird control solutions must be used to ensure that birds, people, and other animals are not harmed. Bird control is critical because pest birds, particularly pigeons, which are common in many parts of the Malaysia, can cause health problems through their droppings.
Bird droppings have the ability to damage property and equipment. Although these small animals do not appear to be dangerous, they can pose a threat to you in a variety of ways.
Fortunately, Empire Pest Control here to help you to get rid of this problem! We've been providing an excellent bird control service in Malaysia for years, and we've helped thousands of home and business owners in Malaysia with their pest problems. With the help of our trained pest control specialists from Malaysia, you can safely bet that you and your property are in good hands!
Empire Pest Control's process is quite simple. There is no need to worry about huge delays or exhausting procedures because we've taken care of everything for you. Check out the steps below to get a better idea of how we work.
Step 1: Make Contact With Us
The first step is to contact Empire Pest Control using the information provided on our website or by phone. Our representatives will address all of your concerns and will gladly assist you in selecting a bird control method.
Step 2: Survey and Site Visit
Once we discuss your pest problem, we will arrange an examination to be conducted at your site. In this survey, needed information to deal with the pest birds will be obtained to help determine the right way to eliminate them.
Step 3: Treatment
After you've chosen the ideal date for treatment, our experts will arrive at your premises to conduct the extermination. You don't need to be worried about anything else because our team of experts already has the needed tools and solutions to deal with the birds!
Step 4: Aftercare
Birds may sometimes still be present after the treatment, but you shouldn't panic. It will take about a week for you to see the full results. Our team will provide you will all the needed information and tips to avoid a second wave of birds from coming back.
Benefits Of Hiring a Bird Control Service
You might be astonished by the numerous advantages that bird control provides. Before you decide to do it yourself, consider the following reasons why you should hire a professional bird control company like Empire Pest Control!
Saves You Money in the Long Run 
Bird infestation, when untreated, can cause many health problems and property damage, not to mention the feces they keep on dropping! Hiring a professional bird control service provider will help protect you from the painful costs of possible medical bills, replacement of equipment and regular clean-ups! 
Professionals Utilize Safe and Effective Methods 
If you try to deal with birds on your own, you may end up doing more harm than good. Because the FDA has not approved many substances that claim to eradicate birds, the ones you use may pose a risk to your health and your property's quality. On the other hand, working with professionals ensures that you have solutions that are safe and highly effective in countering birds!
Highly Experienced Experts 
Without first assessing the situation, Empire Pest Control will not dispatch just an exterminator to your area. Our professionals have all completed the required training and are ready to work in the field. As a result, they are always ready to help and assist you, no matter what your problem is!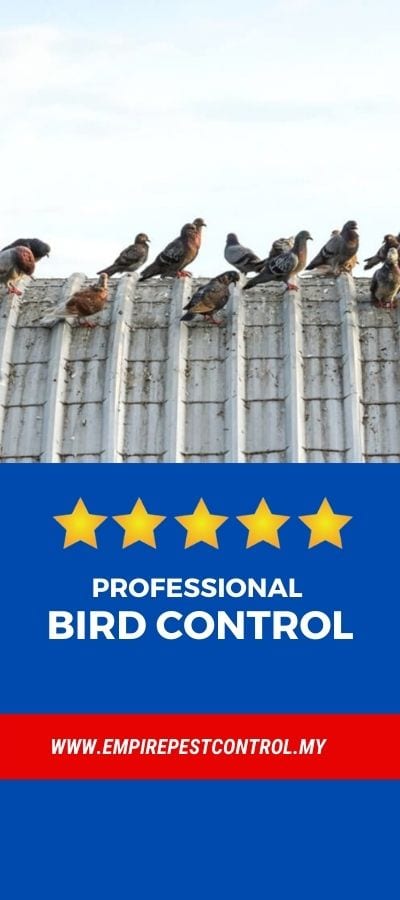 Locations That We Provide Services
Melaka
Here is the list of areas that we provide pest control in Melaka.
Alor Gajah
Ayer Keroh
Ayer Molek
Batu Berendam
Bemban
Bukit Baru
Bukit Rambai
Jasin
Klebang Besar
Kuala Sungai Baru
Masjid Tanah
Pulau Sebang
Sungai Udang
Perak
Here is the list of locations that we offer pest control in Perak.
Bagan Serai
Batu Gajah
Bidor
Kampar
Kuala Kangsar
Lumut
Pantai Remis
Parit Buntar
Simpang Empat
Sitiawan
Taiping
Tapah Road
Teluk Intan
Johor
Here are the area coverage that we offer pest control in Johor.
Ayer Baloi
Ayer Hitam
Batu Pahat
Chaah
Gelang Patah
Gerisek
Jementah
Kahang
Kluang
Kota Tinggi
Kukup
Kulai
Mersing
Muar
Nusajaya
Empire Pest Control is happy to assist you with any questions or concerns you may have about bird infestations. Take a look at the details below to learn everything you need to understand!
Can pest control get rid of birds?
Pest control can certainly get rid of your ongoing bird problem. With all our well-planned methods, highly-trained professionals, effective solutions and cutting edge equipment, we can guarantee you a safe and successful bird control service!
The birds are not harmful; why can't I just leave them?
Birds may not seem harmful to you, but they can actually pose a threat to your health and property. If you just leave them be, these problems can escalate even more. Birds can leave droppings that might endanger you and leave your property damaged or looking unclean.
How long is the process of bird control?
Once you book an appointment, our specialist will come to your area right away to get it treated. However, you may see results after a week or so because bird control will always take time. But don't worry! We would be more than happy to come back if you feel like the problem isn't subsiding.
What's The Price of Bird Control Service?
The answer is heavily influenced by the method used, the coverage area, and the solutions/equipment utilized. However, there's no need to be concerned! Empire Pest Control offers a diverse range of services at a competitive price. Contact us right now for a better understanding.
Contact Us To Book a Bird Control Now!
A bird problem can be difficult to deal with, but no one ever said you couldn't seek professional assistance. Call Empire Pest Control today for a dependable and effective bird control service!