Flea control specialist with years of experience and training.
The highest level of equipment and solutions
Safe methods for both humans and pets
High-quality performance at a reasonable price.
For Flies Control Services in Malaysia – Call Us Now
Hire a Professional Fleas Control in Malaysia
Fleas are small, blood-sucking insects that love to feed on our furry-friends. They latch to our dog's and cat's skin and absorb their blood in a painful manner while remaining hidden in their coats. This pest's bites can be extremely itchy, and the discomfort can last for several days.  Furthermore, these fleas don't only target animals. But also humans as well.
They can also move from one host to another, making them difficult to eliminate. If you have pets in your home, you'll have a higher chance of accumulating fleas.
Empire Pest Control provides an excellent flea control service that has aided thousands of animal lovers across Malaysia. You can rest assured that your beloved dog or cat is in good hands with our trained specialists, safe solutions, and pet-friendly methods. Pets, like our customers, are essential to us. As a result, you and their safety are our top priorities.
Empire Pest Control's process is surprisingly simple. There's no need to be concerned about huge delays or exhausting procedures because we've taken care of everything for you. Check out the steps below to get a better idea of how we work.
Step 1: Get in Touch with Us
The first step is to  contact us. Our website, email address, and phone number are always available 24/7. Our team of experts will gladly assist you in selecting the best flea control method for your needs.
Step 2: Site Visit and Survey
In the second step, we'll evaluate your flea infestation and dispatch a trained specialist to your location. We'll inspect your property for pests and look for places where they might be hiding. We'll also scan each of your pets to make sure there are no fleas on them.
Step 3: Treatment of Fleas
Once we have gathered all of the necessary information,  We will start the treatment. The data collected during the site visit will determine the method and solutions to be used. There's no need to be concerned because all of our tools and substances are assured to be safe!
Step 4: Aftercare for Flea Control
Following the treatment, our experts will give you advice and habits to follow in order to avoid a second wave of fleas. These insects can be challenging to get rid of, so do your best to stick to the professionals' advice.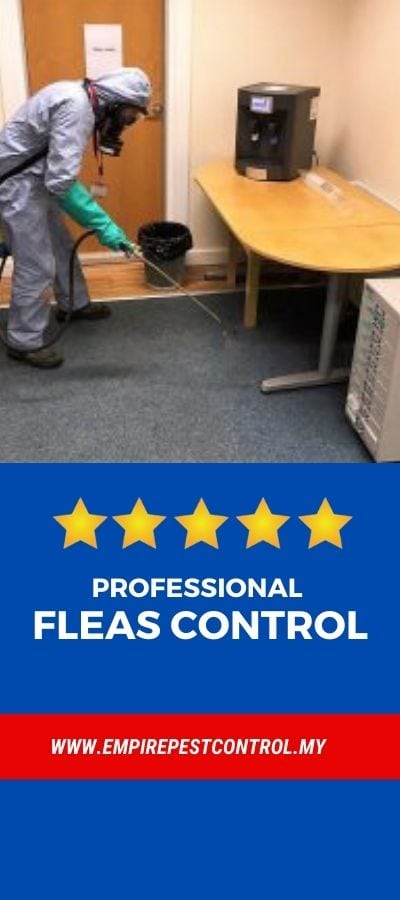 Benefits Of Hiring a Fleas Control Service
When you don't put in the necessary time and effort to deal with a flea infestation at home, it can quickly spiral out of control. Not only will your pets be affected, but you may suffer as well. There are numerous advantages to hiring a professional to deal with this type of pest infestation, and we'll go over the most important ones today.
The Solutions Used Are Both Safe and Effective
It's natural to be concerned if you have a pet and decide to have your home flea-treated. This, however, is unnecessary! Flea repellents, solutions, and tools that Empire Pest Control uses to eliminate these insects are all useful without the risks of harming your pets. All of our methods are safe, ensuring the welfare of your furry friends.
Pest Control Specialists With a Lot of Experience
Empire Pest Control does not dispatch an exterminator to your location without first assessing the situation. All of our specialists have completed the necessary training to be ready to work in the field. As a result, no matter your problem, they are always prepared to help and assist you!
Flea Services That Fits Your Needs
Professional flea control service providers recognize that each customer's needs are unique, which is why we've created a variety of programs that can be tailored to your specific requirements and budget.
Melaka
Here is the list of areas that we provide pest control in Melaka.
Alor Gajah
Ayer Keroh
Ayer Molek
Batu Berendam
Bemban
Bukit Baru
Bukit Rambai
Jasin
Klebang Besar
Kuala Sungai Baru
Masjid Tanah
Pulau Sebang
Sungai Udang
Perak
Here is the list of locations that we offer pest control in Perak.
Bagan Serai
Batu Gajah
Bidor
Kampar
Kuala Kangsar
Lumut
Pantai Remis
Parit Buntar
Simpang Empat
Sitiawan
Taiping
Tapah Road
Teluk Intan
Johor
Here are the area coverage that we offer pest control in Johor.
Ayer Baloi
Ayer Hitam
Batu Pahat
Chaah
Gelang Patah
Gerisek
Jementah
Kahang
Kluang
Kota Tinggi
Kukup
Kulai
Mersing
Muar
Nusajaya
Do you have any concerns about the procedure? Are you becoming increasingly concerned about these pesky insects? If you answered yes, you're in for a treat! We've prepared a list of the most common questions we get from new customers. For more information, see the information below.
How much does it cost to have fleas extermination?
The answer is highly dependent on the method used, the coverage area, and the solutions/equipment utilized. You don't have to be concerned, though! Empire Pest Control provides a wide range of services at a reasonable cost. For a better understanding, contact us today.
How can I get rid of fleas early?
Fleas aren't difficult to spot, so you can prevent an infestation from getting out of hand. Grooming your pet regularly, bathing them, and keeping an eye on their behavior are all things you can do to prevent or eliminate fleas in their early stages.
How long will I see fleas after extermination?
Fleas may reappear 10-14 days after treatment as the eggs hatch and develop, but this is entirely normal. They will be killed by the insecticide that has been left in place. Thus, it's critical not to do any deep cleaning that might remove the insecticides.
How do you know if your house has fleas?
A constant scratching pet is one of the most common signs of a flea infestation. If your dog or cat won't stay still and has a lot of red spots on their skin, you're probably dealing with fleas. If you don't have pets but are experiencing itchiness and swollen marks all over your body, it's perhaps fleas too.
Need To Get Rid Of Fleas Infestations? Contact Us Now!
We care and value our pets as if they were members of our family. This is why, if you suspect fleas are bothering your furry friends, you should act quickly. Choose Empire Pest Control for the best flea control in town. We're eager and prepared to help you in any way we can!