Pest Control Penang
Troubled by annoying rodents, cockroaches, termites and other pest infestations?
We offer professional pest control in Penang at an affordable rate.
We can deal with various types of pests to help you enjoy clean, safe and pest-free surroundings.
Our team is committed to protecting you and your property by providing sound advice, preventative steps and effective treatments to get rid of pests completely.
Looking for Pest Control Services in Penang? Contact us now!
Why Hire a Pest Control Company in Penang?
Identify pests accurately to work out proper treatment.

Our professional exterminators are trained to identify pests accurately in order to resolve the problem. We know everything about a wide range of pests, including an understanding of their behaviour and biology, which enable us to develop effective treatment plans against these property invaders. 

Find the source of the problem to eliminate pests completely

. Simply killing the ants or roaches you see does not solve the problem. Professionals such as our pest control experts can perform thorough inspection to identify how pests get inside the premises, determine what is attracting them and find the source correctly. By doing so, we can address the problem and work out the best solution. This is just like treating the illness and not just the symptoms.

Stop the damage now. Pest infestation should be treated immediately. DIY treatments do not guarantee an effective, long-term solution. Our professional service entails the use of necessary tools and know-how to eradicate pests efficiently so you can keep them from damaging your property and compromising your health.
Types of Pest Control Services in Penang That We Offer
Fleas Control:

Fleas can be troublesome and hard to control. Our team can eliminate fleas completely and help prevent them from coming back. 

Termite Control:

Termite damage is an expensive problem to have. It can damage your home because it destroys wood. We have an integrated approach for termite control to knock them out effectively. 

Rodent Control

: Our team can provide mouse extermination that starts with identifying how they are getting in and knowing how many of them might be inside your property. We can work out the best approach depending on the situation.

Bed bugs Control

: We offer the right treatment against bed bugs that will surely kill them in all stages, including the eggs. 

Cockroach Control

: We can perform fully integrated cockroach management that kills all kinds of cockroaches no matter what stage of their life.

Mosquitoes Control

: Our mosquito control service is effective in getting rid of these insects and stops them from causing harm and discomfort.

Ants Control: Want to get rid of ants problems fast? We have effective methods when it comes to ants control services.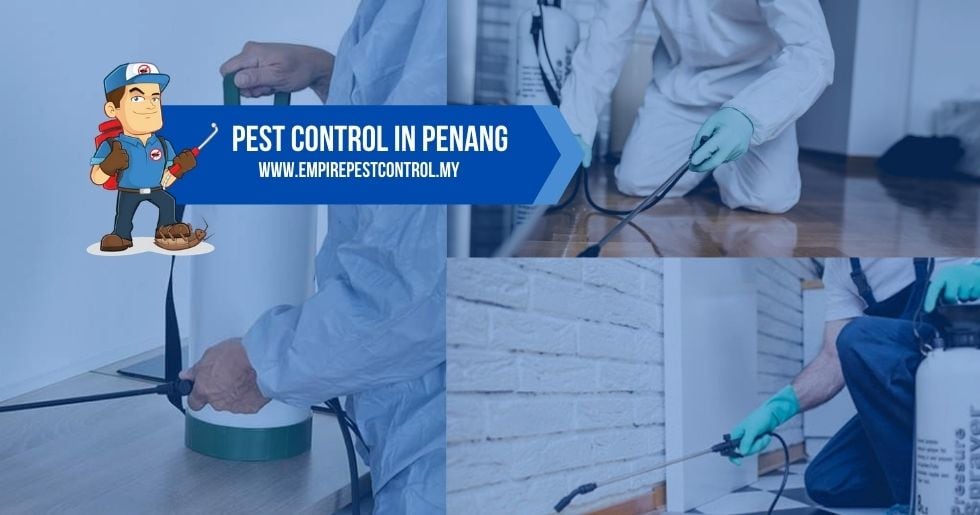 Why Choose Us
Expertly Trained Staff: Empire Pest Control takes pride in our experts who have sufficient knowledge and training in eradicating different types of pests. The right knowledge is a must in order to provide safe and effective solutions.
Safe, Comprehensive Treatment: Every pest control management follows a particular approach in order to be safe and effective. It begins by identifying where they are coming and what attracts them. It also includes determining the size, scope, or extent of the infestation and the treatment itself.
Dependable Service: As service providers, we aim to provide a professional level of work that starts with promptness. We arrive as scheduled and present accurate quotes and pricing. We will walk you through the process so you understand what needs to be done.
Price of Pest Control Services in Penang
Prices vary depending on some factors but feel free to reach us to get an accurate quote.
Type of pest and treatment:

Some pests are easy to eradicate while some are not. They also require different approaches or methods of treatment, so prices vary.

Scope of damage or infestation

: If you spot a pest right away and hire us immediately, we can control the damage easily. If it is worse, it might require days of treatment. This also affects pricing.
Proudly Serving Surrounding Areas in Penang
Here are the surrounding areas that we offer pest control services in Penang.
Our Latest Projects in Penang
Job Done on October 02, 2023
General Pest Control in George Town,Penang
Termite Control in Butterworth,Penang
Cockroach Control in Butterworth,Penang
Ant Control in Bayan Lepas,Penang.
Frequently Asked Questions About Pest Control in Penang
Should I hire a professional when I can perform DIY pest treatment?
DIY pest treatments typically fail at addressing the main problem. Moreover, not all types of pests can be handled through DIY easily, especially for more serious pests such as termites or rodents. You will need the expertise of trained professionals who have the knowledge on the proper treatment of all types of pests.
How long will I wait to see results?
This depends on the type of pest. For insects such as ants or mosquitoes, you can quickly see results. For other more serious problems such as termites, it may take a while for you to see results. Rest assured all our treatments are carefully planned for effectiveness.
What type of treatment do you do?
There are different methods of treatment depending on the type of organism and extent of damage. What you can be sure of is that every approach is based on proper understanding of their biology and behaviour.
How do I book your pest control service in Penang?
Simply message us or give us a call and we will assist you right away. You can provide as much details as possible. This includes your location, types of pest problems and sharing some pictures of the issue if possible.
Need To Get Rid Of Your Pest Problems? Give us a Call Now!