Moth control services that are dependable and trustworthy

Cutting-edge technology and equipment

Moth control that is both safe and effective

Professional exterminators with extensive training

Affordably priced, high-quality service
For Moths Control Services in Malaysia – Call Us Now
Hire a Professional Moths Control Service in Malaysia
Moths appear to be harmless insects that do not pose a direct threat to humans. However, they can wreak havoc on stored food and fabrics such as wool, fur and even leather.
Moth problems in Malaysia are quite difficult to detect because they grow, breed, and thrive in the dark interiors of drawers, pantries, and dressers. Moth infestation is destructive and a cause for concern, as many businesses such as bakeries and restaurants lose a significant amount of money each year as a result of them.
If you want to protect your family and your business from this kind of threat, then it's vital that you take the needed steps to repel them.
Luckily, Empire Pest Control has developed the best methods to deal with your moth infestation issues. We utilize only the safest and most effective pest control solutions available in Malaysia to eliminate moths infestations without the risk of harming your health and property. If reliable and professional is what you aim to get, then you're in the right hands when you're with us!
Unlike other pest control companies, we have a very simple and quick moth control process. There's no need for long waits and delays because we have made everything easier for you! Check out below to see an insight into how we operate.
Step 1: Make Contact With Us
The first step is to contact Empire Pest Control using the information provided on our website or by phone. Our representatives will address all of your concerns and will gladly assist you in selecting a moth control method.
Step 2: Site Visit and Survey
After we've had a chance to talk about your pest problem, we'll set up an inspection at your location. The information needed to deal with the moths will be obtained through this survey, which will help determine the best approach to eliminating them.
Step 3: Extermination
Our specialists will arrive at your location to carry out the extermination after you've chosen the best date for treatment. You won't have to worry about anything else because our team of professionals has all of the necessary tools and solutions to deal with the pests!
Step 4: Follow-up
Moths may still be visible after the treatment, but don't be alarmed. The full results will take about a week to show up. Our team will provide you with all the necessary tips and guidance to prevent a second wave of moths from returning.
Benefits Of Hiring a Moths Control Service
You might be amazed at how many wonderful advantages moth control has to offer. Before you decide to do it yourself, consider the following reasons why you should hire a professional pest control company like Empire Pest Control instead!
Pest Exterminators Who Have Received Extensive Training
Not everybody has the training or understanding to handle moth problems, but with Empire Pest Control's exterminators, you can have the chance to enjoy a pest-free home. Our team consists of high-performing professionals with years of industry experience, so no matter what situation you're in, they'll be there to assist you!
Conducted Effective Methods
You will save a lot of time and effort by hiring a professional instead of doing pest control yourself. You won't have to worry about getting rid of the moths because our professionals will take care of it for you. You'll have a safe environment in no time, thanks to our well-thought-out methods!
Safe-To-Use Tools and Solutions
One of the things that set Empire Pest Control apart from the competitors is that we only utilized proven safe and effective remedies and materials. You can be confident that you and your property are in good hands when you work with us.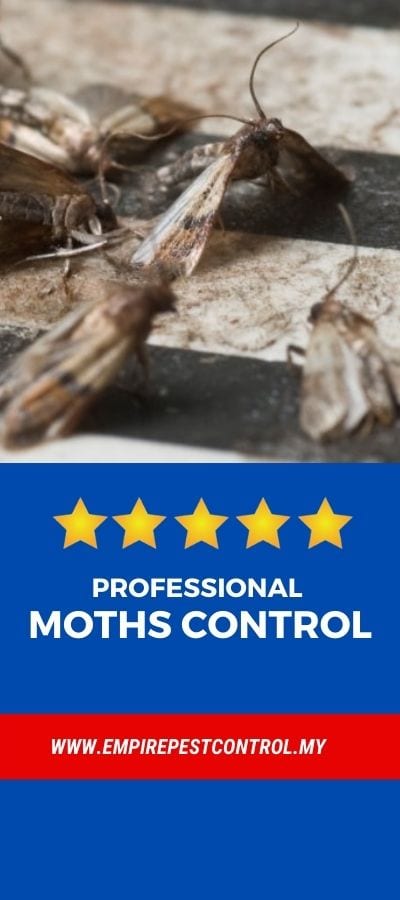 Melaka
Here is the list of areas that we provide pest control in Melaka.
Alor Gajah
Ayer Keroh
Ayer Molek
Batu Berendam
Bemban
Bukit Baru
Bukit Rambai
Jasin
Klebang Besar
Kuala Sungai Baru
Masjid Tanah
Pulau Sebang
Sungai Udang
Perak
Here is the list of locations that we offer pest control in Perak.
Bagan Serai
Batu Gajah
Bidor
Kampar
Kuala Kangsar
Lumut
Pantai Remis
Parit Buntar
Simpang Empat
Sitiawan
Taiping
Tapah Road
Teluk Intan
Johor
Here are the area coverage that we offer pest control in Johor.
Ayer Baloi
Ayer Hitam
Batu Pahat
Chaah
Gelang Patah
Gerisek
Jementah
Kahang
Kluang
Kota Tinggi
Kukup
Kulai
Mersing
Muar
Nusajaya
Do you have any questions about moth treatments and everything associated with it? We might be able to help! We've put together a list of the most common questions we get from new customers. Please take a look at it below.
How much does pest control cost for moths?
The technique used, the coverage area, and the solutions/equipment utilized all have an impact on the price. There's no need to be worried, though! Empire Pest Control provides a wide range of quality moth control services, all at a reasonable cost. For a greater understanding, contact us right now.
What's The Cost For Moth Control?
We can use a number of different moth treatment options, and the cost of the service is largely determined by which one you choose. Feel free to call us if you require a more detailed response, and one of our agents will be happy to assist you!
How long is the process of moth control?
Our exterminators will come to your location as soon as possible after you schedule an appointment to treat it. However, because moth control takes time, you may see outcomes after a week or so. But don't be concerned! If you feel the problem isn't going away, we'd be more than happy to return and deal with the problem until you're satisfied.
Do you need an exterminator for moth control?
The answer varies depending on the circumstances. If your moth infestation isn't severe, following the experts' advice and strategies will be enough to get rid of these pests. However, When your home is infested with moths, it's best to hire exterminators so that your health isn't jeopardized.
Moth control can be a difficult task that takes up all of your time and effort. Fortunately, Empire Pest Control can help you with any moth infestations you may be having. Call us today and let us assist you in creating a secure environment for you and your loved ones.