Experts with vast experience
Guaranteed safe procedures approved by the FDA
Outstanding quality at a reasonable price
The advanced method, equipments and solutions
For Rat Control in Malaysia – Call Us Now
Hire a Professional Rat Control in Malaysia
Rats, as insignificant as they may appear, are a serious problem that plagues many Malaysian homes and businesses. Whether you own a house or a company, they will be drawn to our establishment because it is where they find food and shelter.
Rats not only spread disease and contaminate food, but they also leave droppings and cause property damage. They will gnaw on anything;  As a result, your pipes, furniture, clothes, and other belongings are vulnerable to these pesky little creatures.
Luckily, Empire Pest Control's team and cutting-edge tools and equipment are always ready to combat these unwanted pests. With over a decade of experience in the field, we can assure our customers that they will receive the best rat control treatment available! If you want to ensure your property's safety and maintain a healthy environment, we are unquestionably the best option.
Empire Pest Control has a remarkably simple process. We've taken care of everything for you, so you don't have to worry about long lines or frustrating procedures. To get a better understanding of how we operate, look over the steps below.
Step 1: Get in Contact With Us
The first step you must do is to reach us through our website or give us a call. One thing that makes our company the best is our availability because our representatives are always prepared to help you with your needs! 
Step 2: Visit the Site and Conduct a Survey
Once you've chosen a program and set a date, We'll begin evaluating your rat problem and send a qualified specialist to your area. We will look for signs of rats and check the places they could hide on your property. 
Step 3: Rat Control Implementation 
Depending on the site visit's information, the technique and solutions to be utilized will differ.  After receiving your approval, We will immediately begin treatment.  Our specialist will start by sealing all possible entry points for these pests. Once it's done, They'll start placing the needed solutions and rat traps. 
Step 4: Giving of Preventive Measures
Rats are notoriously difficult to eradicate, which is why our trained professionals will provide you with some tips and strategies that you can use in your residence. This will prevent any rat from returning.
Benefits Of Hiring a Rat Control Service
Hiring a professional rat control company, particularly Empire Pest Control, has a number of advantages. We will undoubtedly make a significant difference with our commitment and high service standards.
Extensively Trained Exterminators 
Not everyone has the knowledge and experience to deal with rat problems, but you can have a pest-free home with Empire Pest Control's exterminators.
Our team comprises high-performing professionals with years of experience in the field, so no matter what situation you're in, they'll be there to help you!
Tools and Solutions That are Safe 
One of the things that distinguish Empire Pest Control from the competition is that we only use solutions and equipment that have been proven to be safe and effective.
When you work with us, you can rest assured that both you and your property are in good hands.
Effective Methods Conducted 
Hiring a professional, as opposed to doing pest control yourself, will save you a lot of time and effort. You won't have to think about getting rid of these rats because our specialists will do it for you.
With our well-thought-out methods, you'll have a safe environment in no time!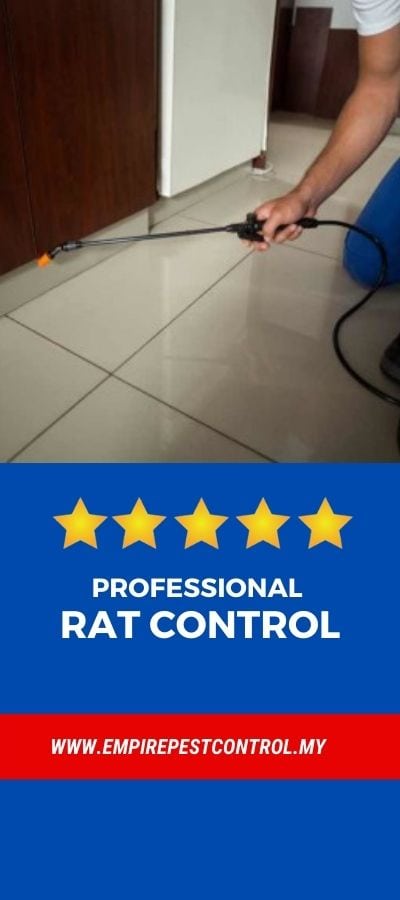 Locations That We Provide Services
Melaka
Here is the list of areas that we provide pest control in Melaka.
Alor Gajah
Ayer Keroh
Ayer Molek
Batu Berendam
Bemban
Bukit Baru
Bukit Rambai
Jasin
Klebang Besar
Kuala Sungai Baru
Masjid Tanah
Pulau Sebang
Sungai Udang
Perak
Here is the list of locations that we offer pest control in Perak.
Bagan Serai
Batu Gajah
Bidor
Kampar
Kuala Kangsar
Lumut
Pantai Remis
Parit Buntar
Simpang Empat
Sitiawan
Taiping
Tapah Road
Teluk Intan
Johor
Here are the area coverage that we offer pest control in Johor.
Ayer Baloi
Ayer Hitam
Batu Pahat
Chaah
Gelang Patah
Gerisek
Jementah
Kahang
Kluang
Kota Tinggi
Kukup
Kulai
Mersing
Muar
Nusajaya
Do you have any concerns about rat treatments and everything that surrounds it? We might be able to assist you! We've compiled a list of the most frequently asked questions from our new customers. Please take a look at it below.
How much is pest control for rats?
Several factors influence the cost of rat treatment, including the method to be used, the severity of the infestation, and the treatment area. However, Empire Pest Control offers affordable packages. Contact us today and get a free quote!
What's The Price of Rat Control Service?
We can use a variety of rat treatment methods, and the price of the service is primarily determined by which one you select. If you'd like a more detailed response, please call us and one of our representatives will be happy to help you!
How do you control a rat infestation?
Eliminating or stopping a mild rat infestation isn't as complicated as it may seem. One of the most effective ways to control rats is to practice good hygiene, clean your area regularly, and store food in tightly sealed containers. If you remove any food source, they will stop visiting your property and seek meals elsewhere.
Will pest control get rid of rats?
Yes!  The treatment for rat control is extremely useful in preventing rats from entering your property. This will not only help to establish a pest-free environment, but it will also protect your structure and furniture from damage. Because we use the best solutions on the market, we guarantee you'll get results that are worth your money.
Controlling rats can be a challenging task that consumes all of your time and energy. Fortunately, Empire Pest Control is available to assist you with any rat issues you may be experiencing. Call us today, and let us help you provide a safe space for you and your loved ones.