Pest Control Selangor
Looking for pest control services in Selangor? If the answer is yes, we can help you. We are one of the most reliable pest control company in Selangor.
We have been providing a complete solution when it comes to preventing pests from homes and business premises. For the past few years, we have served more than thousands of households and commercial clients throughout Selangor area.
With our years of experience, we know what it takes to provide the highest level of customer service.
When you book with us, you know that you are getting the best pest control service in Selangor. If you need pest control services in Selangor, we are here to assist you.
For Professional Pest Control Services in Selangor – Call Us Now
Book With #1 Recommend Pest Control Company in Selangor
We are considered to be one of the top pest control companies in Selangor as we have been providing services for over 10 years. Our team consists of professional exterminators who are professionally trained and have years of experience that will assist you to meet your pest control needs in a timely manner.
With more than a decade of experience in this industry, we take our services to the next level through a customized approach. All of our pest control services in Malaysia are customized based on your needs and requirements.
Unlike other pest control companies of having a standard SOP (standard of procedures), each of our customers will receive a complete inspection.
How do we do it? Our team will inspect your property (interior and exterior) to ensure any possible risks are completely removed.
Not only that, but we will also share with you the best prevention tips you can implement so you don't have to worry about annoying pests again.
If you are interested in our pest control services in Selangor, you can contact our team via WhatsApp message, email or, call. One of our pest control experts will be there to assist you. You can also ask any questions you want such as why pest control service after a home renovation, we are ready to answer any of your questions.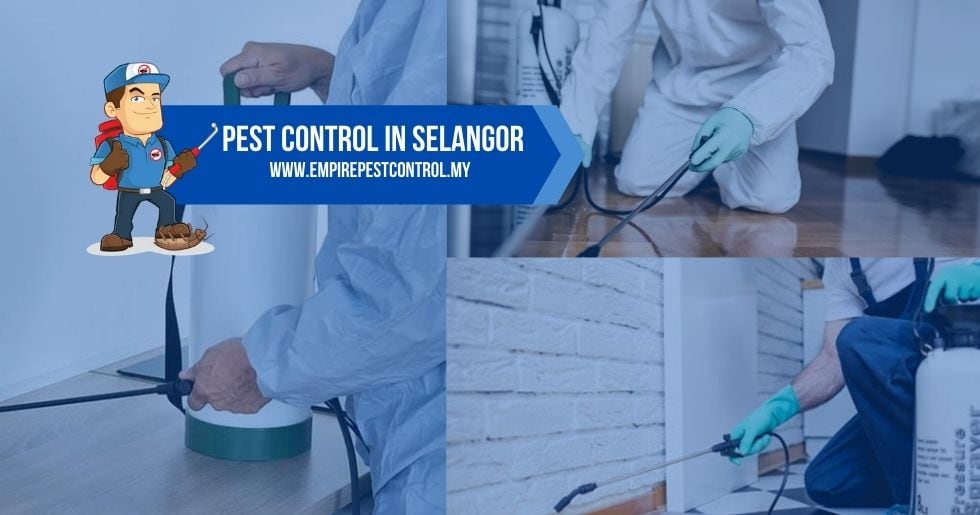 Types Of Pest Control Services We Offer in Selangor
Check out the top pest control services that we offer in Selangor, Malaysia. We have professionals who are experienced to solve all your pest problems.
Whether you are looking for termite control or bed bugs control, we can provide you this service. This means that it allows us to take on all types of pest control tasks. If you don't see the services that you are searching for, just give our friendly staff a call and we will assist you.
Fleas Control
Rodent Control
Mosquitoes Control
Why Choose Empire Pest Control
In the market, there are so many companies that offer pest control services. Here's what makes us different.
Quick Response: We know that you want to get rid of your pest problem as soon as possible. This is why our team will be ready to assist with all your concerns.
Trained Staff: We only worked with professional technicians that have been providing pest control services for years. This means you'll get the best services to get rid of your pest problems.
Service Excellence. Not only that we are proud of our pest control solutions are, but we also make sure that our technicians have the latest techniques and technologies to help you to eradicate pests. Because of this, you will be sure that you will get the best pest control service in the Selangor area.
Other Locations That You Provide Pest Control Services
We provide services in other locations in Malaysia such as Kuala Lumpur, Petaling Jaya, and etc. You can check out the areas that we operate below. If you don't see the area that you are looking for, you can contact us.
Frequently Asked Questions About Our Pest Control Services
Throughout the years in this industry, we get all kinds of questions about our pest management services, you can refer below for the most commonly asked questions.
What's The Price of Pest Control Services in Selangor?
The price of pest control services in Selangor are influenced by a few factors such as types of services, types of treatment, how severe is the problem. To get an accurate price, you can reach out to our team.
What kind of pests do you treat?
We treat all types of pests. This includes termites, ants, bedbugs, flea, cockroaches, rats, mice, insects, and so on.
Need To Get Rid Of Your Pest Problems? Contact Us Now!