Don't let the small size of ants fool you. They may look harmless, but they are intelligent insects with strong survival instincts that can make them a nuisance to your home or business premises.
Empire Pest Control performs effective ants control in Malaysia if you want to stop their infestation.
Call us today to get a quote.
For Ant Control in Malaysia – Call Us Now
Why Book a Professional for Ants Control in Malaysia
There are many reasons why you need to get a professional pest control company in Malaysia. Here are a few reasons.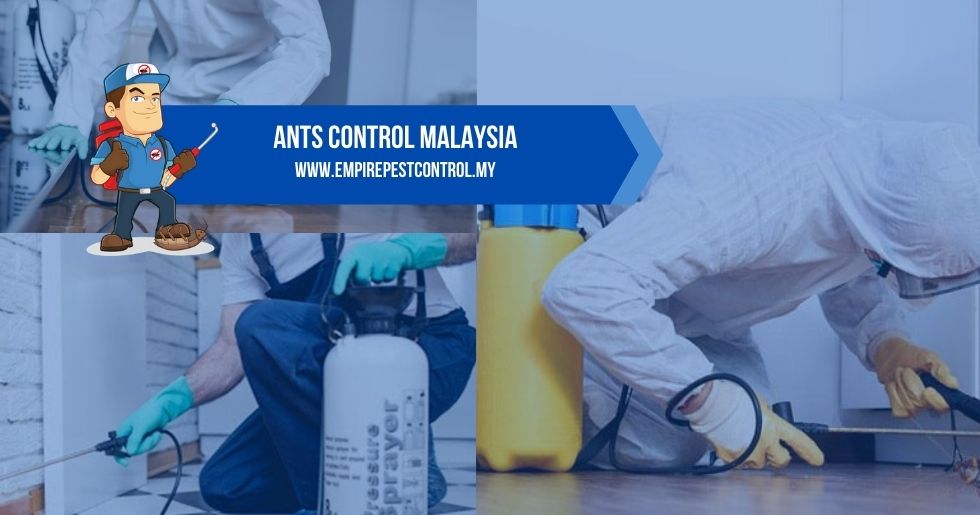 Effectiveness: There are DIY treatments that you can easily learn if you search online or ask around, but most natural methods are only as good as they last. You have to repeat applying or using ant repellents in order to keep them away. By hiring a professional who knows the behaviour and biology of various ant species, you receive high quality, effective service that aims to eliminate them for long
Speediness: As experts in the control of ants and other pests, professionals are highly familiar with the treatment techniques. We can handle these insects so you won't have to, and we are able to treat them quickly. This is because we know what to do once we assess the level of infestation in your property and we have the tools and products ready.
Safety: Our expert technicians are trained to handle solutions safely. We will do our job making sure that we do not harm humans, animals and the environment.
Why Choose Our Ants Control Services
Qualified technicians: All our technicians are highly trained and experienced with pesticide application. Our expert knowledge allows us to handle pest treatments effectively and we make sure that we stay up to date with the latest techniques through continuous training.
Targeted treatments: Our approach includes thorough inspection as part of the assessment. We will check all high-risk areas carefully and provide you with a recommendation of treatment plan. This plan depends on the extent of infestation and other key considerations in order to work out the most effective treatment based on your situation.
Reliable solutions: We take pride in our innovative, industry-grade solutions for the long-term treatment of ant infestation. We can treat and control all types of ants using products that suit the relevant species and level of infestation.
Have questions about ants control? Check out our FAQs about ants or you can contact us via WhatsApp, Email or phone number.
What's the Price of Ants Control Services in Malaysia
For ants control in Malaysia, the average cost ranges from RM150 to RM250 for 1000 to 5000 square feet area. To have an idea of pricing, we list down factors that determine overall cost.
Size of area

: The size of the area to be treated is an important factor for it determines the extent of work to be done and the quantity of products to use.

Treatment methods

: After the assessment of your property, we will recommend the treatment plan that includes the methods to use to control the infestation and at times, the methods may vary.

Number of treatments

: If multiple visits are necessary, it may also incur additional charges. For more accurate information on pricing, please contact us.
Popular Ants Control Videos
Locations That We Provide Services
Melaka
Here is the list of areas that we provide pest control in Melaka.
Alor Gajah
Ayer Keroh
Ayer Molek
Batu Berendam
Bemban
Bukit Baru
Bukit Rambai
Jasin
Klebang Besar
Kuala Sungai Baru
Masjid Tanah
Pulau Sebang
Sungai Udang
Perak
Here is the list of locations that we offer pest control in Perak.
Bagan Serai
Batu Gajah
Bidor
Kampar
Kuala Kangsar
Lumut
Pantai Remis
Parit Buntar
Simpang Empat
Sitiawan
Taiping
Tapah Road
Teluk Intan
Johor
Here are the area coverage that we offer pest control in Johor.
Ayer Baloi
Ayer Hitam
Batu Pahat
Chaah
Gelang Patah
Gerisek
Jementah
Kahang
Kluang
Kota Tinggi
Kukup
Kulai
Mersing
Muar
Nusajaya
Need To Get Rid Of Your Pest Problems? Contact Us Now!