Equipment and solutions that are cutting-edge

Methods and strategies that are well-thought-out

Exterminators who are highly skilled.

Materials that are both safe and effective

Spider extermination services at an affordable price
For Spider Control Services in Malaysia – Call Us Now
Professional Spider Control in Malaysia
Spiders are among the most astounding creatures on the planet, and we owe them a debt of gratitude for keeping pests like mosquitoes and flies at bay. Though, that doesn't mean you want them to make a home in your cabinet or behind your bedroom door. Many people dislike being around spiders, so if you're having problems with an infestation, it's best to call in the professionals right away.
As a reputable pest control company, we are dedicated to providing exceptional spider control services. Over the years, we have presented thousands of Malaysians with the most up-to-date equipment, professional exterminators, and effective and safe solutions at an affordable price. If you're looking for anything dependable and exceptional, we're the company for you!
Process of Spider Control
Do you dislike having to wait for your request to be processed for long periods of time? If you do, Empire State Control's method will appeal to you! We've made everything easier, so you don't have to be concerned with anything!
Step 1: Get in Touch with Us
To get in contact with us, give us a call or send us an email! Our representatives will happily help you with the problem you're having. In addition, our team of experts can assist you in choosing the right method for your ongoing situation.
Step 2: Data Obtaining and Site Visit
The second step is the site visit. Once you've chosen a program and set a date, our team of experts will come to your location and obtain the needed data for the operation. In this step, we will locate the spider's nest, check their species and plan on the best method to get rid of them.
Step 3: Operation of Extermination
Once we've finalized the plan and taken your approval, we will begin with the extermination. Empire Pest Control will utilize effective and safe solutions to get rid of the pesky spiders. You don't need to worry since the chemicals and tools we use won't be harmful to you or your premises.
Step 4: Aftercare
Just because the spiders have been fully eliminated doesn't mean the chances of them coming back is gone too. Our professional exterminators will leave you with the needed tips and strategies to avoid another wave of spiders from coming back, so be sure to follow their given advice diligently!
Benefits Of Hiring a Spider Control Service
Unfortunately, Malaysia has some of the worst cases of spider infestation.
However, by simply hiring Empire Pest Control, you'll be able to combat these pests! Why is it best to work with us? Check out below!
Professionals Will Do the Right Method
Although these little spiders are annoying, they actually aid in keeping your home and business pest-free. Thus, it's vital that you take the needed precautions when dealing with them, even though you're eliminating these spiders.
Working with professionals who know the right method to get rid of any spiders from your property without the risk of harming them is just among the countless of benefits when it comes to hiring Empire Pest Control!
The Experts Utilized Solutions That are Safe
Planning on dealing with spiders on your own can cause more harm than good. Many chemicals that claim to eliminate spiders can actually pose a danger to your health and your property's quality since these haven't been approved by the FDA.
But when working with the experts, you're sure to have solutions that aren't just safe but are all highly effective in combating spiders!
Professionals are Always Ready
Spiders are challenging to deal with, and they can be a nuisance in your household or business. Hiring a professional will give you the benefit of having someone who's always ready!
They are fully equipped to deal with any spider issue that may arise. They're guaranteed to possess all the needed solutions and tools to eliminate the presence of spiders effectively.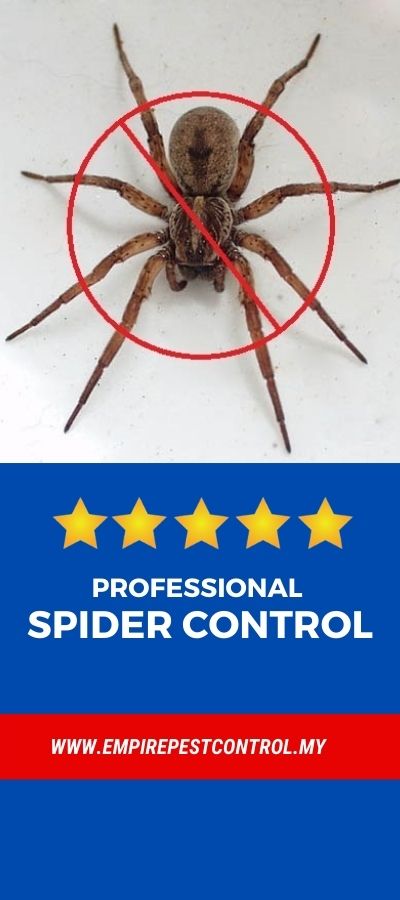 Area That We Provide Services
Melaka
Here is the list of areas that we provide pest control in Melaka.
Alor Gajah
Ayer Keroh
Ayer Molek
Batu Berendam
Bemban
Bukit Baru
Bukit Rambai
Jasin
Klebang Besar
Kuala Sungai Baru
Masjid Tanah
Pulau Sebang
Sungai Udang
Perak
Here is the list of locations that we offer pest control in Perak.
Bagan Serai
Batu Gajah
Bidor
Kampar
Kuala Kangsar
Lumut
Pantai Remis
Parit Buntar
Simpang Empat
Sitiawan
Taiping
Tapah Road
Teluk Intan
Johor
Here are the area coverage that we offer pest control in Johor.
Ayer Baloi
Ayer Hitam
Batu Pahat
Chaah
Gelang Patah
Gerisek
Jementah
Kahang
Kluang
Kota Tinggi
Kukup
Kulai
Mersing
Muar
Nusajaya
FAQs About Spider Control
If you have any questions or concerns, please read the following information! It's possible you'll come across exactly what you're looking for.
How much does pest control cost for spiders?
The answer varies on different kinds of situation. It depends on the method utilized, the area of coverage and the solutions used. But don't worry! We offer an affordable price range for spider control services. Contact us today to get a free quotation.
Can you get pest control for spiders?
Yes, you can! There are many ways to control your spider infestation, such as using traps, seals and solutions. Fortunately, Empire Pest Control has all the needed methods to combat spiders from sabotaging your property fully.
How Long is the process of spider control?
It's a common misconception to think that once you get treated for pest, your enemies will disappear right away. That's not always the case! Often times, it can take up to 2-3 weeks to surely see the changes. But don't worry because we will never leave our customers in the dark. Empire Pest Control will not stop until your issues have been fully dealt with!
Do you need an exterminator for spider control?
When the infestation is severe and cannot be helped with first-stage spider solutions, then exterminators will be needed to eliminate the spiders from your property.
Need To Get Rid Of Your Spider Infestations? Contact Us Now!
When dealing with these pesky pests, having a dependable, professional, and excellent spider control company is essential. Work with Empire Pest Control if you really want the most efficient approach. Call us today and let us assist you in creating a safe environment for you and your family!