Termite Baiting System Malaysia
Termites are a common household pest that property owners need to deal with. They can cause serious damage to your home if left untreated.
Our termite baiting system in Malaysia has been proven as one of the most effective and safest ways to get rid of termites in your house without using harmful chemicals or pesticides.
We offer the best termites baiting system in Malaysia that's ideal for different needs and budgets. Our products are easy-to-install, safe for both humans and pets, and will provide protection from termite attacks for years after installation.
How Does Termite Baiting System Work
Termites baiting system is a great method that you can use to identify and remove termites from your home or office before they cause damage.
Many property owners have noticed that termites eat whatever they may find inside your home or office. To protect yourself against this sneaky little swarming creature, you only need to have a good termite baiting system performed by a professional termite control specialist in Malaysia.
Termite baiting is the process of distributing an insecticide or other toxic substance in bait form. The termites bring food to their colony will with then slowly kill the entire nest off. Your exterminator will place bait stations around your home or office to affect the colony until the termite queen dies.
The baiting process is more successful in controlling large populations of this type of insect, and it's often used as a maintenance method for long term protection against future infestations.
Why You Should Have a Termite Baiting System
Whether you'tr dealing with large termite colonies or perhaps just small ones, a baiting system is great for effective termite control. Plus, it's environmental friendly! Check out below for more reasons why you need a termite bait system.
Effective Termite Treatment
This may come as a surprise to many, but the baiting process fresh bait is actually one of the most effective termite treatment there is. Since the professionals will ensure they get to feed termite with fresh bait that contains chemicals, you can expect these creatures to eventually die. These termites bring food to their queen in order for the nest to grow but without the members, the nest will begin to fall which results to a total colony elimination.
Gives You Peace of Mind
Termites eat wood work that may be part of your home's structure, and they can be difficult to treat due to their hard skin protecting them. When this happens, all sorts of problem may occur. In order to get a total colony elimination, you need to have a proper termite control plan in place. With a baiting system, you get to have peace of mind knowing that your house is protected from termite damage and stop any active termites that might be lurking just around the corner.
Protects Your Home and Furniture 
A colony starts to develop when there is no termite active ingredient that stops their invasion. When this happens, they will make their way into your home and destroy your furniture. With a termite control plan, experts will come into your property to conduct premise inspection and set up structural barriers and the baiting system.
Long Lasting Solution 
Houses built with wooden structures can be prone to termites. But with a baiting system, you get long-lasting solution that will help you remove these creatures for good. We ensure to provide regular service maintenance so chemicals inside the bait won't run out. You can certainly count on this long term protection treatment to save you and your property!
Why Choose Our Termite Baiting Solutions
Effective Solutions
Empire Pest Control has an effective and strategic solution to getting rid of the termite queen and any infestation issues. Our technicians are trained to handle your termites safely, and they'll never use a "one size fits all" approach with your home or business. We take the time to assess your property carefully before we decide which type of treatment will work best for you.
We also offer long-lasting solutions which affect even termites with hard skin. The installation process is worry-free because it's not as invasive as full-blown extermination.
Years of Experience
Empire Pest Control has years of experience in removing termites. We are experts at early termite detection and are confident that you will see a decrease in termites within the first 3 months.
We say "years" of experience and knowledge because our average pest technician has at least 5 years of experience with baiting operations! The advantage is not only that they've seen just about everything before, but they've also learned how to do things better while handling your termite problem! We take pride in never cutting corners or being anything but upfront with you, thanks to our experienced team of experts.
Affordable Price Rates
Empire Pest Control offers a lower price termite baiting treatment because we know how devastating it can be to deal with an entire colony. We ensure that you know everything about our service before you make a decision and guide you through every step of the way.
We offer affordable prices on the latest termite baiting systems for homes and businesses in Malaysia because we want to protect your investment without breaking your budget. You won't have to worry about the termite queen bugging you or even new swarmers because with this affordable offer, you can eliminate these creatures effectively!
Types of Termite Baiting Treatment in Malaysia
Termite baiting is classified into two types, including liquid bait and paste baits which all target a termites colony. Liquid baits are simple to apply and require less intervention from the operator, while paste baits require a little prep work before setting it up.
Liquid termite bait treatment is more efficient in giving a quick response in most cases, but can be problematic when there's rain or other adverse conditions that would make them ineffective or defective.
Paste germicide treatments on the other hand needs a longer time frame for full effectiveness, but with prolonged contact, they give higher kill rates as well as long term protection from molds and fungi which can affect pastes because of their liquid carrier agent diluting over time.
Termite Baiting System Cost in Malaysia
The cost for installing a termite baiting system in Malaysia can vary depending on several factors such as the severity of the termite infestation, the size of the area, the chosen type of insecticide, and what the vait system consists.
With Empire Pest Control, you can rest easy knowing that we offer our termite baiting system in Malaysia at an affordable rate so you can get rid of your pest problems for good.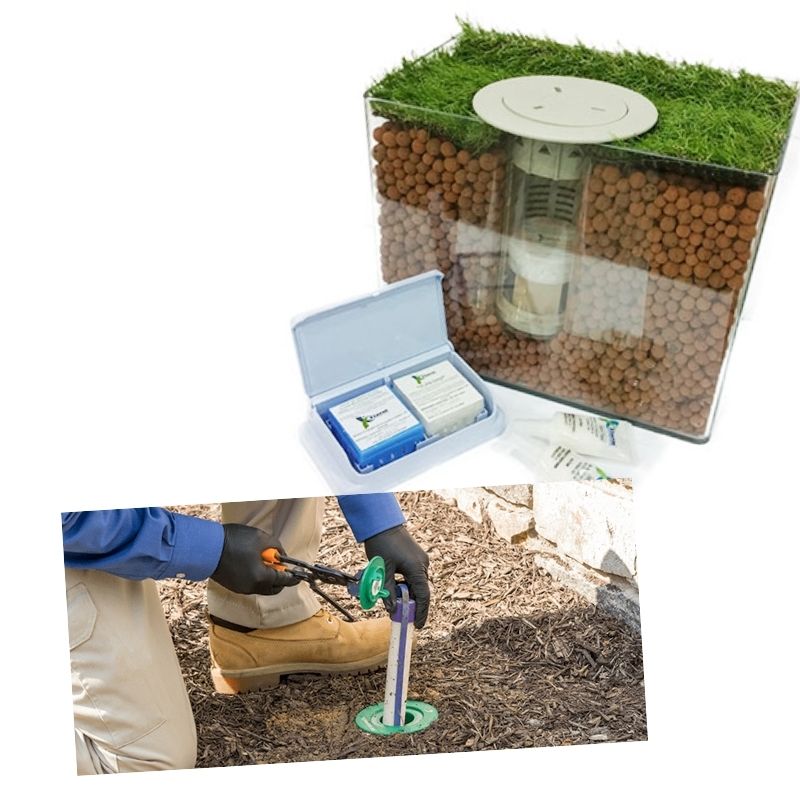 FAQs About Termite Baiting System in Malaysia
Here are some FAQs about termite baiting system in Malaysia to help you effectively deal with their entire colony with ease.
 Do termite baiting systems really work
Yes, they are indeed effective! In fact, there's a lot of research pointing to the long-lasting effects of baiting systems since termites eat the bait with chemicals in it without being aware
We offer a termite baiting system as a better alternative to chemical treatments. this is because it is considered environmentally friendly. We use slow-acting substances that kill termites during their foraging trips back toward their nests until the termite queen dies along with their members. 
How often should termite baits be replaced?
Termite baits should be replaced every six months. This is because termites are smart enough to realize that the bait is hampering their life cycle and will stop eating it if given enough time, and if you want them to keep on coming back for more, it's best to give the entire colony a fresh new bait every six months.
Do termite bait stations attract termites?
Yes, they do because of the type of bait being used by the professional. Termite baits, which can be used to kill termites, are stations in which you place a desired amount of bait in a closed container or hollowed-out tree stump. In order for termites to get access to the bait, channels are left uncapped on one side leading into the trap. The use of baits is meant to provide more control over locating and killing targeted populations, as opposed to traditional methods where no one knows what was killed or when it was done.
Are termite protection worth it?
With a termite contract, you'll be able to save a lot of money in the long run because your structure will be protected by an eco friendly system from an entire colony of termites that can cause destruction. We make sure to  feed termite with effective and strong chemicals when their colony starts causing trouble to stop them until their termite queen dies.
Contact Us Today!
Empire Pest Control is a leading provider of pest control services in Malaysia. We offer termite baiting systems for residential and commercial properties, with maximum protection against termites. If you would like to know more about our termite baiting system or how it can help protect your property from damage by these destructive insects then contact us today.