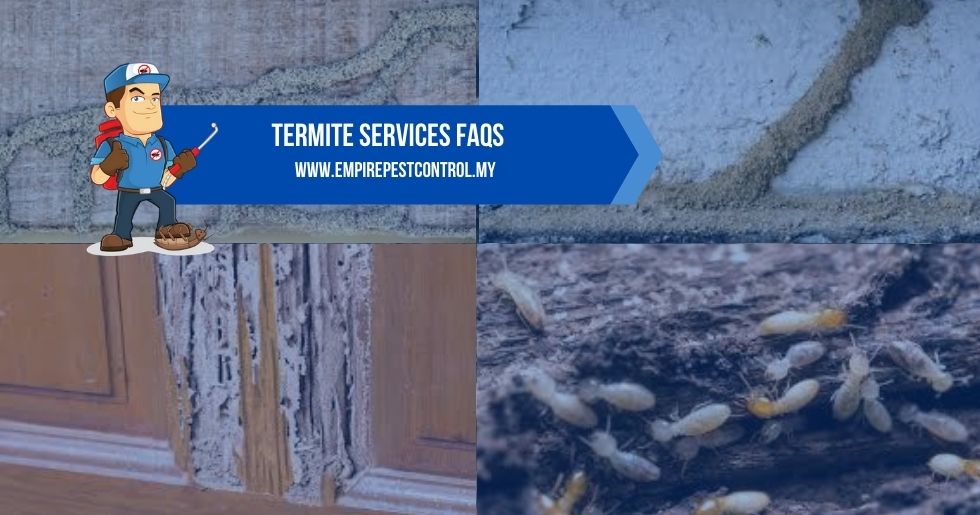 Empire Pest Control provides reliable termite control in Malaysia. Here, we aim to provide answers that customers commonly ask. If you have further inquiries, please do not hesitate to call us.
Can I do termite treatment myself?
Termite treatment requires specialized tools and knowledge in dealing with termites. Professionals have an understanding of their nature and behavior, thus making them capable of planning an effective eradication method. It is not safe for homeowners to attempt treatment.
Our house was treated a few years ago but why have termites infested us again?
Termiticides should control termites for at least 5 years if used correctly. If the treatment was not done correctly or the barrier was disturbed, this could lead to another infestation. Termites can find the weak spots in the barrier and find their way back into the house again.
How do I know if I have termites at home?
Here are signs of termites that include earthen mud tubes on walls, in cracks and crevices or along baseboards.
About how much should I pay for termite treatment?
The price of termite control in Malaysia varies with each pest treatment but pricing includes the cost of termiticide. A larger house costs more to treat. For an accurate quote, please call us.
Are your treatments safe?
Yes. We use government approved termiticides and treatment methods. In general, all insecticides including termiticides are dangerous if handled incorrectly. This is why it matters that only trained and knowledgeable individuals make use of these chemicals. You can be sure that our team always practices safety every time we perform extermination.
What shall I expect from the treatment service?
We will first inspect your home or business premises thoroughly so that we know exactly what to plan for the treatment properly and come up with a report of the recommended course of action. We will inspect all furniture and appliances.
Treatment often involves drilling through the floor in certain areas to treat the soil. Do not worry for we will reseal all holes afterward. It may also include surface sprays, Borate treatment, and wood treatment depending on the type of termite infestation. We will advise you on what we will do and the steps you also need to take prior to the day of treatment.
How will I make my home unsusceptible to termites?
The first thing to do is to reduce soil to wood contact as much as possible. If you have lumber, wood, or cardboard around the foundation, remove it, and build a 4-inch barrier between mulch and your house. When constructing the house and if possible, keep only the concrete foundation to touch the soil with siding at least 6 inches above. Avoid unnecessary moisture caused by leaky pipes, etc.
Our termite control service is an integrated approach that aims to get rid of termites completely.
We will do our best to keep your home free from pest infestations. It is not easy to deal with termites on your own, so we are here to handle it for you. We would be glad to assist you so contact us today.