Pests are a problem for many commercial properties, and it is important to find a pest control company that can get rid of them. Not all companies will be the same though, so what qualities should you look for in one?
We have created an infographic regarding the qualities that every professional commercial pest control company should have below!
P.S. Have pest problems in your office? Contact us today to learn more about our commercial pest control service.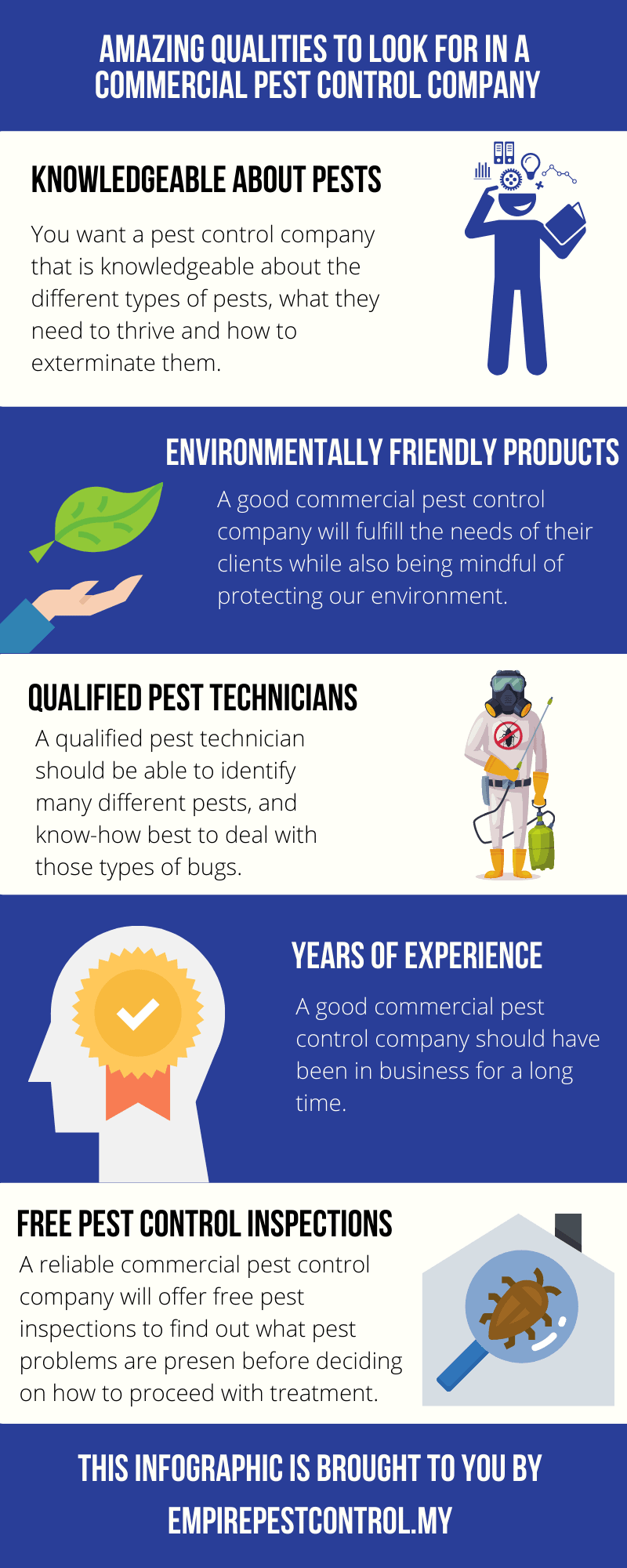 Share this infographic On Your Site
Knowledgeable about Pests
You want a pest control company that is knowledgeable about the different types of pests, what they need to thrive and how to exterminate them. This is because pests can come in all shapes and sizes, so a pest control company that is up to date about the pests they are dealing with will be able to effectively exterminate them. For example, you can't just use the same treatment to kill cockroaches as you would for rodents because they are different.
Environmentally Friendly Products
A good commercial pest control company will be committed to eco-friendly practices in how they help deal with your pest problem, whether it's at home or work.
This is a good sign that they will offer the same kind of care to you and your property.
They should not use harsh chemicals on lawns and buildings that may harm the environment around them.
Qualified Pest Technicians
A qualified pest technician should be able to identify many different pests, and know-how best to deal with those types of bugs. They will also have the appropriate licenses that are required for commercial pest control in your area.
Commercial pest control companies can also help you keep up on your best practices to avoid an infestation. For example they may advise using sprays or other barriers such as sticky tapes around doorways where bugs are likely to enter.
Qualified pest technicians should be able to provide you with a written estimate before they begin work on your property so that there are no surprises down the line, and it's easy for everyone involved in the project.
Related Posts:
Years Of Experience in Pest Control
A good commercial pest control company should have been in business for a long time. The longer the company has been established, the more experience they've had with commercial pest control and developing solutions to problems that might arise. This is because the more years a company has been in business, the more problems they've encountered and solved.
Free Pest Control Inspections
A reputable and reliable commercial pest control will offer free pest inspections.
This is a good way to find out what pests and other problems are present in the home or business before deciding on how to proceed with treatment.
You can also ask questions to make sure you are getting the best service.
Conclusion
We hope this article has helped you find the right commercial pest control company for your needs.
If not, feel free to reach out to us and ask any questions that might help you make a decision on which service is best for you.