Pest Control Kota Kemuning
We provide excellent pest control solutions throughout Kota Kemuning,Shah Alam.
Our team of experts to deal with all types of pest infestations such as rodents,termites and ants, bed bugs, and other pests problems.
if you need any sorts of pest control solutions, feel free to give us a call today.
For Pest Control Services in Kota Kemuning – Call Us Now
Types of Pest Control Services in Kota Kemuning
Here at Kota Kemuning, Shah Alam, our pest control exterminators have encountered all types of pests. Whether it is termites to cockroach infestations, we can help! Our goal is to provide homeowners in Kota Kemuning area with top-tier pest control solutions.
At Empire Pest Control, all of our services can meet your pest control needs. No matter what pests problems you're facing, we are always ready for the job.
Here are some of our popular pest control services in Kota Kemuning.
Termite Control
Bed Bug Control
Ants Control
Mosquitoes Control
Rat Control
Cockroach Control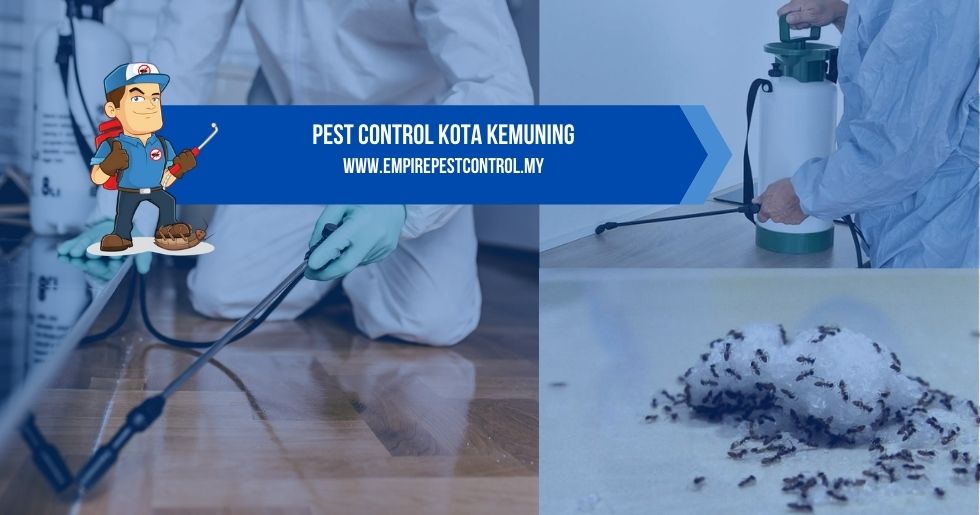 Other Locations That We Provide Pest Control Services Nearby Kota Kemuning
We also provide pest control services nearby Kota Kemuning, Shah Alam.
This includes:
Setia Alam, Shah Alam
Seksyen 7, Shah Alam
Seksyen 15, Shah Alam
Seksyen 13, Shah Alam
Taman Sri Muda, Shah Alam
Alam Impian, Shah Alam
Bukit Jelutong, Shah Alam
Bandar Pinggiran Subang, Shah Alam
and many more.
Benefits Of Booking Our Pest Control Services in Kota Kemuning
When it comes to getting rid of pest problems, there are two options. The first option is trying to do it by yourself (DIY). The other method is to hire a professional pest control exterminator to do the job for you.
Most people make pest problems worst by going for the first option (DIY Pest Control). The best way is option 2 which is booking a professional to do it for you.
Here's why it will benefit you when you hire our pest control experts in Kota Kemuning:
1. Use the right way to get rid of the pests
Each pest infestation requires different methods to get rid of it. You need the right knowledge, tools and equipment for each type of pest problem. Our team is professional trained with years of experience to deal with all types of pests using the right methods. No matter how severe the infestation is, we can get the job done with ease.
2. Find the source of the pest infestation
If you want to solve your pest problem once and for all, you need to find the source of it. Instead of wasting time trying to figure out where is the source/entry point of the problem, it is better to get a pest control expert to find the main cause of the pest infestation and get rid of it.  This will prevent potential pest problems in the future.
3. Regular follow-ups
What you need to know about pest infestations is that you can get rid of them in the first treatment. We would need to visit your place on a regular basis to make sure your place is free from any type of pests.
Contact Us – Pest Control Kota Kemuning Experts
Have questions or concerns that you would like to ask our pest control Kota Kemuning experts? You can contact us via the button below. Our friendly team are ready to assist you.
Need To Get Rid Of Your Pest Problems? Contact Us Now!